About Bangtan Universe
Edit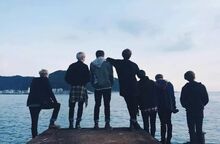 Bangtan Universe is a universe created by Bighit using the members of BTS, or Bangtan Sonyeondan, a 7-member South Korean music group. It is purely fictional and was established during the era of HYYH, which kickstarted the universe in 2015.
The main characters include
Kim Seokjin
,
Kim Namjoon
,
Kim Taehyung
.
Min Yoongi
,
Jeon Jungkook
,
Park Jimin
and
Jung Hoseok.
Information on BU
Edit
The BU is derived from music videos and films of BTS certified as BU, HYYH Notes from the Love Yourself series ala Her, Tear and Answer, as well as Map of the Soul: Persona and 7, the Save Me Webtoon comics on Line Webtoon and HYYH Notes 1, a book published by Bighit Entertainment.
The second half of the year 2020 will include a BU-based drama and a BU-based game. It was also confirmed during the BigHit Conference that HYYH The Notes 2 is to be expected. 
Merchandise/ Figurines have also been created based on these characters. The first set of figurines were based on the 'Save Me' Universe but was only created 'for display'. The second set of figurines, 화양연화_ARTTOY, based on the Highlight Reels, were in collaboration with Sticky Monster Lab and was sold via the BigHit Official Shop.
Timeline
Edit
The timeline in Bangtan Universe is a very complex situation as the timeline has a tendency to reset due to Kim Seokjin time travelling. Thus, as of the current timeline, it is unsure whether particular events truly apply.
Click here to see a comprehensive timeline.
Theoretical aspects are purely deduction but it assists in understanding the story.
Some theoretical aspects on characters and the music videos are included.
Community content is available under
CC-BY-SA
unless otherwise noted.